There's lots to do all weekend long at Bug-a-Palüza 19. Our show is family friendly and pet friendly. Dogs must be kept on a leash and their owners are expected to pick up after them. Gates open at 8:00 AM on Saturday morning! This is a rain or shine event. No refunds given due to inclement weather.
Join us on Facebook for the latest updates and announcements.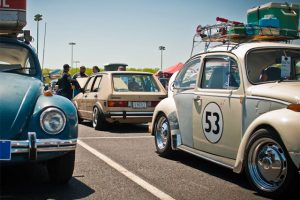 Judged Car Show
With 39 show classes, there is one for every model of Volkswagen (air-cooled and water-cooled). Register your car today.
View our past show galleries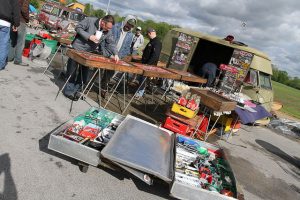 Swap Meet
Bug-a-Palüza has one of the largest VW swap meets in the Southeast. Our vendor alley is full of new and used parts, along with VW themed jewelry and clothing.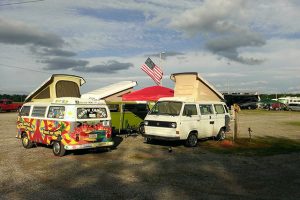 Camp Out
You won't want to miss one of the largest VW campouts around. The RV lot at Camp Jordan can accommodate any size camper. Find out more about camping.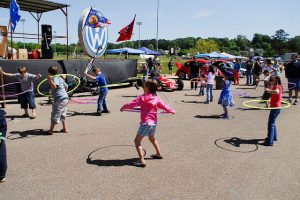 Games, Prizes, and More
Our emcee Dr. FieldingGood will be hosting contests and games all weekend long, with plenty of prizes and giveaways for all ages.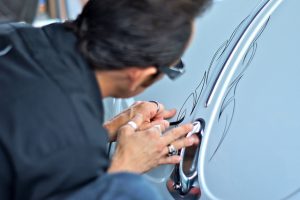 Von Hot Rod
World famous pin striper Von Hot Rod returns to Bug-a-Palüza to add his unique flair to vehicles, souvenirs, and virtually anything else you can think of!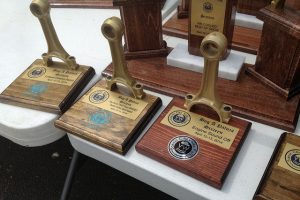 Hand Crafted Trophies
We have the most unique awards of any VW show, with a real connecting rod! Trophies awarded to 1st, 2nd, and 3rd place in each class, along with specialty awards and best of show trophies.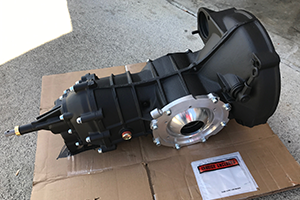 Win a Transmission
A new 4.12 R/P Pro-Street Flyer swing axle transmission will be given away at Bug-a-Palüza 19, donated by Aircooled Werk.
---
Costs
Spectators

$5 per person for all weekend access, children 12 and under free. All gate proceeds benefit Ronald McDonald House Charities of Greater Chattanooga. Arm bands must be purchased at the gate.

Show Cars

$20 per car, pre-registered or at the gate. Includes entry to the show for two people. First 300 registered show cars will receive a goody bag. A non-judged entry is available for $10, this does not include entry to the show. Register Now

Vendors

$20 per 10'x20′ space (one parking lot length). Multiple consecutive spaces can be purchased to accommodate larger vendors. Each vendor registration includes entry to the show for two people. All vendors must be pre-registered, there will be no extra space the day of the show. Register Now
Campers

$5 per person for the weekend to camp in the RV lot. Arm bands must be purchased at the campground entrance. Campers wishing to set up before Friday must contact East Ridge Parks and Rec directly to pay additional camping fees.
An ATM will be on site, provided by Malone's ATMs.
---
Food Vendors
Breakfast and lunch is served by Ronald McDonald House volunteers at the East Picnic Pavilion. Additional food vendors and Coke wagons will be available on the show grounds:
Kona Ice – over 30 flavors of shaved ice and ice cream
Fun Time Foods – funnel cakes, corn dogs, fries, lemonade, sweet tea
Salted Hog BBQ – BBQ sandwiches, BBQ plates
Karen's Ice Cream – hand dipped ice cream, sweet tea, lemonade, frosted lemonade/strawberry lemonade
Move Coffee Kitchen – Tea, coffee, cookies, snacks
RMHC Soda and Slices – Pizza by the slice (Saturday only), drinks, coffee, snacks
Lupi's Pizza – (Sunday only) Pizza, salad, cookies, drinks
---
Schedule
Friday, April 7 (Setup Day)

12:00 Noon – Registered Vendors and Show Cars may enter to set up. No one is permitted on show grounds before this time!

Saturday, April 8

8:00 AM – Spectator gate and registration booth open
8:00 AM – Breakfast served by Ronald McDonald House Volunteers
11:00 AM – Lunch served by Ronald McDonald House Volunteers
New Show Car registrations accepted until lot is full – usually by 12:00 PM
5:00 PM – Spectator gate closes

Sunday, April 9

8:00 AM – Spectator gate opens
8:00 AM – Breakfast served by Ronald McDonald House Volunteers
8:15 AM – Short devotional service led by Von Hot Rod
11:00 AM – Lunch served by Ronald McDonald House Volunteers
3:00 PM – Awards Ceremony
No new registrations accepted on Sunday
Judging is done both Saturday and Sunday.
---
Regulations
E-Z UP TENTS AND CANOPIES – Camp Jordan does not allow stakes driven into the asphalt or ball fields. Tents and canopies must be held down with at least 40 lbs. of weight per leg. This is an insurance requirement and will help prevent injury/damage to property due to unpredictable winds. Please bring enough weights for your popup. Improperly weighted tents will be asked to be taken down.
Visit our Hotels and Camping for camping rules and regulations.
Cars for sale – If you wish to sell your car at Bug-a-Palüza, please register and choose non-judged. You may park it in the show area with a for sale sign, there is no designated area for selling vehicles.
No unregistered vehicles permitted on the show lot. All cars must display a hang tag to park. No trailers on the show grounds except for loading or unloading. Additional parking for trailers and other vehicles is available in the side lot.
---
Past Shows